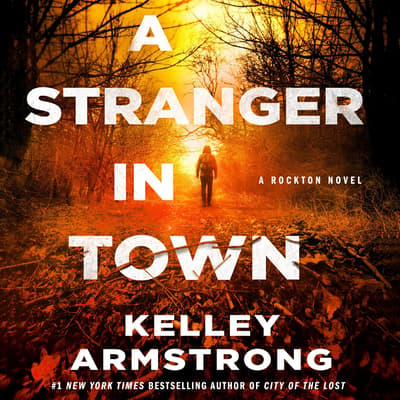 Format :

CD

(In Stock)
Available on 02/02/2021

ISBN: 9781250788184
In #1 New York Times bestselling author Kelley Armstrong's next Rockton book, A Stranger in Town, the biggest mystery is the fate of the town itself. Detective Casey Duncan has noticed fewer and fewer residents coming in to the hidden town of Rockton, and no extensions being granted. Her boyfriend, Sheriff Eric Dalton, presumes it's the natural flux of things, but Casey's not so sure. Something bigger is happening in the small town they call home. When an injured hiker stumbles from the woods, the sole survivor of a hostile attack, it's all hands on deck. Even a member of the elusive Rockton council comes in to help. This council member also comes bearing news: Rockton is being shut down due to the hostile situation. Casey and Eric must now race to save the town that has allowed residents to have a fresh start, away from the mistakes of their past, while also getting to the bottom of this latest attack. A Macmillan Audio production from Minotaur Books
Learn More
Membership Details
Only $12.99/month gets you 1 Credit/month
Cancel anytime
Hate a book? Then we do too, and we'll exchange it.
See how it works in 15 seconds
Summary
In #1 New York Times bestselling author Kelley Armstrong's next Rockton book, A Stranger in Town, the biggest mystery is the fate of the town itself. Detective Casey Duncan has noticed fewer and fewer residents coming in to the hidden town of Rockton, and no extensions being granted. Her boyfriend, Sheriff Eric Dalton, presumes it's the natural flux of things, but Casey's not so sure. Something bigger is happening in the small town they call home. When an injured hiker stumbles from the woods, the sole survivor of a hostile attack, it's all hands on deck. Even a member of the elusive Rockton council comes in to help. This council member also comes bearing news: Rockton is being shut down due to the hostile situation. Casey and Eric must now race to save the town that has allowed residents to have a fresh start, away from the mistakes of their past, while also getting to the bottom of this latest attack. A Macmillan Audio production from Minotaur Books
Details
Available Formats :
CD
Category:
Fiction/Mystery & Detective
Audience:
Adult
Language:
English
To listen to this title you will need our latest app
Due to publishing rights this title requires DRM and can only be listened to in the Downpour app
DRM (Digital Rights Management) is a copyright protection for digital media. While much of Downpour's content is DRM free, and allows for usage across platforms, select products on Downpour are required by publishers to have DRM protected files. These products will be playable exclusively on the Downpour.com apps, available for iOS and Android devices.