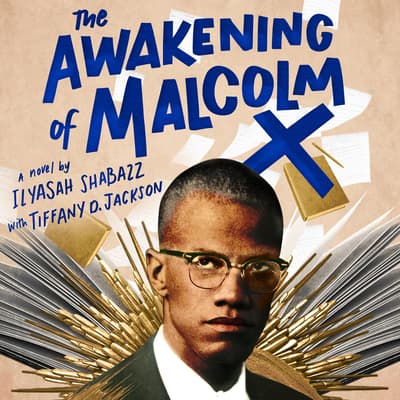 Format :

Digital Download

(In Stock)
2 Formats:

Digital Download

or 1 Credit

ISBN: 9781250619105

ISBN: 9781250619099

In Stock ● Ships in 1-2 days
This program includes a bonus interview with the author. The Awakening of Malcolm X is a powerful narrative account of the activist's adolescent years in jail, written by his daughter Ilyasah Shabazz along with 2019 Coretta Scott King-John Steptoe award-winning author, Tiffany D. Jackson. No one can be at peace until he has his freedom. In Charlestown Prison, Malcolm Little struggles with the weight of his past. Plagued by nightmares, Malcolm drifts through days, unsure of his future. Slowly, he befriends other prisoners and writes to his family. He reads all the books in the prison library, joins the debate team and the Nation of Islam. Malcolm grapples with race, politics, religion, and justice in the 1940s. And as his time in jail comes to an end, he begins to awaken -- emerging from prison more than just Malcolm Little: Now, he is Malcolm X. Here is an intimate look at Malcolm X's young adult years. While this audiobook chronologically follows X: A Novel, it can be listened to as a stand-alone historical novel that invites larger discussions on black power, prison reform, and civil rights. A Macmillan Audio production from Farrar, Straus and Giroux
Learn More
Membership Details
Only $12.99/month gets you 1 Credit/month
Cancel anytime
Hate a book? Then we do too, and we'll exchange it.
See how it works in 15 seconds
Summary
This program includes a bonus interview with the author. The Awakening of Malcolm X is a powerful narrative account of the activist's adolescent years in jail, written by his daughter Ilyasah Shabazz along with 2019 Coretta Scott King-John Steptoe award-winning author, Tiffany D. Jackson. No one can be at peace until he has his freedom. In Charlestown Prison, Malcolm Little struggles with the weight of his past. Plagued by nightmares, Malcolm drifts through days, unsure of his future. Slowly, he befriends other prisoners and writes to his family. He reads all the books in the prison library, joins the debate team and the Nation of Islam. Malcolm grapples with race, politics, religion, and justice in the 1940s. And as his time in jail comes to an end, he begins to awaken -- emerging from prison more than just Malcolm Little: Now, he is Malcolm X. Here is an intimate look at Malcolm X's young adult years. While this audiobook chronologically follows X: A Novel, it can be listened to as a stand-alone historical novel that invites larger discussions on black power, prison reform, and civil rights. A Macmillan Audio production from Farrar, Straus and Giroux
Editorial Reviews
"Readers will make connections to persistent injustices faced by Black communities―and the beautiful ways which, despite that terror, Black families have found to craft visions of freedom and lives of dignity and love. A must-read reminder that transformation is made possible through community."
—
Kirkus Reviews (starred review)
Details
Available Formats :
Digital Download, CD
Category:
Fiction/Historical
Runtime:
7.91
Audience:
Young Adult (12–17)
Language:
English
To listen to this title you will need our latest app
Due to publishing rights this title requires DRM and can only be listened to in the Downpour app
DRM (Digital Rights Management) is a copyright protection for digital media. While much of Downpour's content is DRM free, and allows for usage across platforms, select products on Downpour are required by publishers to have DRM protected files. These products will be playable exclusively on the Downpour.com apps, available for iOS and Android devices.