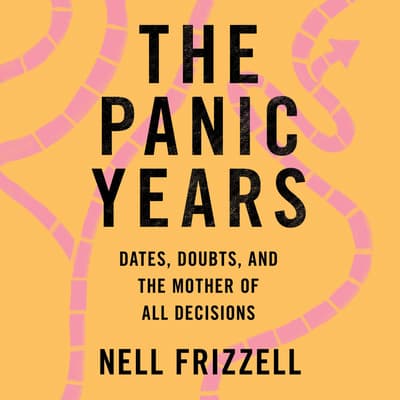 The Panic Years: Dates, Doubts, and the Mother of All Decisions
8.45 Hours
•
02/09/2021
•
1
Format :

Digital Download

(In Stock)
1 Format:

Digital Download

or 1 Credit

ISBN: 9781250764119
This program is read by the author, and includes a bonus chapter exclusive to the audiobook Renowned journalist Nell Frizzell explores what happens when a woman begins to ask herself: should I have a baby? We have descriptors for many periods of life—adolescence, menopause, mid-life crisis, quarter-life crisis—but there is a period of profound change that many women face, often in their late twenties to early forties, that does not yet have a name. Nell Frizzell is calling this period of flux "the panic years," and it is often characterized by a preoccupation with one major question: should I have a baby? And from there—do I want a baby? With whom should I have a baby? How will I know when I'm ready? Decisions made during this period suddenly take on more weight, as questions of love, career, friendship, fertility, and family clash together while peers begin the process of coupling and breeding. But this very important process is rarely written or talked about beyond the clichés of the "ticking clock." Enter Frizzell, our comforting guide, who uses personal stories from her own experiences in the panic years to illuminate the larger social and cultural trends, and gives voice to the uncertainty, confusion, and urgency that tends to characterize this time of life. Frizzell reminds us that we are not alone in this, and encourages us to share our experiences and those of the women around us—as she does with honesty and vulnerability in these chapters. Raw and hilarious, The Panic Years is an arm around the shoulder for every woman trying to navigate life's big decisions against the backdrop of the mother of all questions. A Macmillan Audio production from Flatiron Books
Learn More
Membership Details
Only $12.99/month gets you 1 Credit/month
Cancel anytime
Hate a book? Then we do too, and we'll exchange it.
See how it works in 15 seconds
Summary
This program is read by the author, and includes a bonus chapter exclusive to the audiobook Renowned journalist Nell Frizzell explores what happens when a woman begins to ask herself: should I have a baby? We have descriptors for many periods of life—adolescence, menopause, mid-life crisis, quarter-life crisis—but there is a period of profound change that many women face, often in their late twenties to early forties, that does not yet have a name. Nell Frizzell is calling this period of flux "the panic years," and it is often characterized by a preoccupation with one major question: should I have a baby? And from there—do I want a baby? With whom should I have a baby? How will I know when I'm ready? Decisions made during this period suddenly take on more weight, as questions of love, career, friendship, fertility, and family clash together while peers begin the process of coupling and breeding. But this very important process is rarely written or talked about beyond the clichés of the "ticking clock." Enter Frizzell, our comforting guide, who uses personal stories from her own experiences in the panic years to illuminate the larger social and cultural trends, and gives voice to the uncertainty, confusion, and urgency that tends to characterize this time of life. Frizzell reminds us that we are not alone in this, and encourages us to share our experiences and those of the women around us—as she does with honesty and vulnerability in these chapters. Raw and hilarious, The Panic Years is an arm around the shoulder for every woman trying to navigate life's big decisions against the backdrop of the mother of all questions. A Macmillan Audio production from Flatiron Books
Details
Available Formats :
Digital Download
Category:
Nonfiction/Biography
Runtime:
8.45
Audience:
Adult
Language:
English
To listen to this title you will need our latest app
Due to publishing rights this title requires DRM and can only be listened to in the Downpour app
DRM (Digital Rights Management) is a copyright protection for digital media. While much of Downpour's content is DRM free, and allows for usage across platforms, select products on Downpour are required by publishers to have DRM protected files. These products will be playable exclusively on the Downpour.com apps, available for iOS and Android devices.