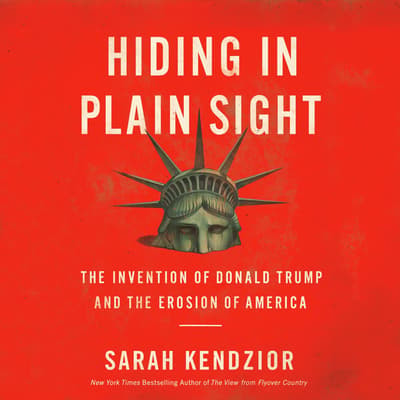 Hiding in Plain Sight: The Invention of Donald Trump and the Erosion of America
By Sarah Kendzior
Read by Sarah Kendzior
9.52 Hours
•
04/07/2020
•
Unabridged
Format:

Digital Download

(In Stock)
2 Formats:

Digital Download

or 2 Credits

ISBN: 9781250260994
New York Times bestselling author Sarah Kendzior documents the truth about the calculated rise to power of Donald Trump since the 1980s and how the erosion of our liberties made an American demagogue possible. This program is read by the author. The story of Donald Trump's rise to power is the story of a buried American history – buried because people in power liked it that way. It was visible without being seen, influential without being named, ubiquitous without being overt. Sarah Kendzior's Hiding in Plain Sight pulls back the veil on a history spanning decades, a history of an American autocrat in the making. In doing so, she reveals the inherent fragility of American democracy – how our continual loss of freedom, the rise of consolidated corruption, and the secrets behind a burgeoning autocratic United States have been hiding in plain sight for decades. In Kendzior's signature and celebrated style, she expertly outlines Trump's meteoric rise from the 1980s until today, interlinking key moments of his life with the degradation of the American political system and the continual erosion of our civil liberties by foreign powers. Kendzior also offers a never-before-seen look at her lifelong tendency to be in the wrong place at the wrong time – living in New York through 9/11 and in St. Louis during the Ferguson uprising, and researching media and authoritarianism when Trump emerged using the same tactics as the post-Soviet dictatorships she had long studied. It is a terrible feeling to sense a threat coming, but it is worse when we let apathy, doubt, and fear prevent us from preparing ourselves. Hiding in Plain Sight confronts the injustice we have too long ignored because the truth is the only way forward. A Macmillan Audio production from Flatiron Books
Learn More
Membership Details
Only $12.99/month gets you 1 Credit/month
Cancel anytime
Hate a book? Then we do too, and we'll exchange it.
See how it works in 15 seconds
Summary
New York Times bestselling author Sarah Kendzior documents the truth about the calculated rise to power of Donald Trump since the 1980s and how the erosion of our liberties made an American demagogue possible.

This program is read by the author.
The story of Donald Trump's rise to power is the story of a buried American history – buried because people in power liked it that way. It was visible without being seen, influential without being named, ubiquitous without being overt.
Sarah Kendzior's Hiding in Plain Sight pulls back the veil on a history spanning decades, a history of an American autocrat in the making. In doing so, she reveals the inherent fragility of American democracy – how our continual loss of freedom, the rise of consolidated corruption, and the secrets behind a burgeoning autocratic United States have been hiding in plain sight for decades.
In Kendzior's signature and celebrated style, she expertly outlines Trump's meteoric rise from the 1980s until today, interlinking key moments of his life with the degradation of the American political system and the continual erosion of our civil liberties by foreign powers. Kendzior also offers a never-before-seen look at her lifelong tendency to be in the wrong place at the wrong time – living in New York through 9/11 and in St. Louis during the Ferguson uprising, and researching media and authoritarianism when Trump emerged using the same tactics as the post-Soviet dictatorships she had long studied.
It is a terrible feeling to sense a threat coming, but it is worse when we let apathy, doubt, and fear prevent us from preparing ourselves. Hiding in Plain Sight confronts the injustice we have too long ignored because the truth is the only way forward.
A Macmillan Audio production from Flatiron Books

Editorial Reviews
"Both prescient and honest…Seeing the roots of the arguments that now dominate cable news is both fascinating and a little bit haunting in retrospect." —NPR on The View from Flyover Country
Details
Available Formats :
Digital Download, CD
Category:
Nonfiction/Political Science
Runtime:
9.52
Audience:
Adult
Language:
English
To listen to this title you will need our latest app
Due to publishing rights this title requires DRM and can only be listened to in the Downpour app
DRM (Digital Rights Management) is a copyright protection for digital media. While much of Downpour's content is DRM free, and allows for usage across platforms, select products on Downpour are required by publishers to have DRM protected files. These products will be playable exclusively on the Downpour.com apps, available for iOS and Android devices.