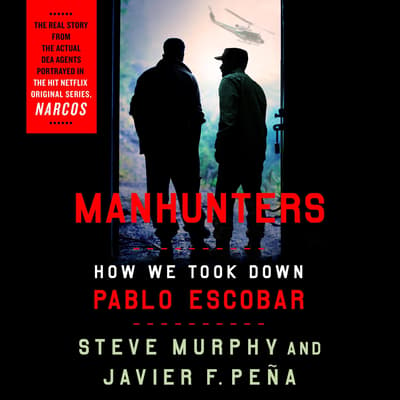 Format:

Digital Download

(In Stock)
2 Formats:

Digital Download

or 1 Credit

Available on 11/12/2019

ISBN: 9781250242655

Available on 11/12/2019

ISBN: 9781250242662
The explosive memoir of legendary DEA agents and the subject of the hit Netflix series Narcos, Steve Murphy and Javier F. Peña. In the decades they spent at the DEA, Javier Peña and Steve Murphy risked their lives hunting large and small drug traffickers. But their biggest challenge was the hunt for Pablo Escobar in Colombia. The partners, who began their careers as small-town cops, have been immortalized in Netflix's Narcos, a fictional account of their hunt for Escobar. Now, for the first time ever, they tell the real story of how they brought down the world's first narco-terrorist, the challenges they faced, and the innovative strategies they employed to successfully end the reign of terror of the world's most wanted criminal. Listeners will go deep inside the inner workings of the Search Bloc, the joint Colombian-US task force that resulted in an intensive 18-month operation that tracked Escobar. Between July 1992 and December 1993, Steve and Javier lived on the edge, setting up camp in Medellin at the Carlos Holguin Military Academy. There, they lived and worked with the Colombian authorities, hunting down a man who was thought by many to be untouchable. Their firsthand experience coupled with stories from the DEA's recently de-classified files on the search for Escobar forms the beating heart of Manhunters, an epic account of how two American agents risked everything to capture the world's most wanted man. Praise for Manhunters: "Steve and Javier's experience on the front lines of the war on drugs over the last thirty years made them an invaluable source of information for us. Their contacts, both foreign and domestic, allowed us to put together a narrative of one of the most complex, poorly reported, and misunderstood chapters in our recent past."—Eric Newman, Executive Producer, Narcos "Manhunters is a riveting account of two brave DEA Agents who put their lives, along with their families lives, on the line to fight the war on drugs in the US and Colombia. A must read on the take down of Pablo Escobar and the part they played in the investigation."—Joe Pistone, former FBI Special Agent, aka Donnie Brasco, New York Times bestselling author
Learn More
Membership Details
Only $12.99/month gets you 1 Credit/month
Cancel anytime
Hate a book? Then we do too, and we'll exchange it.
See how it works in 15 seconds
Summary
The explosive memoir of legendary DEA agents and the subject of the hit Netflix series Narcos, Steve Murphy and Javier F. Peña.
In the decades they spent at the DEA, Javier Peña and Steve Murphy risked their lives hunting large and small drug traffickers. But their biggest challenge was the hunt for Pablo Escobar in Colombia. The partners, who began their careers as small-town cops, have been immortalized in Netflix's Narcos, a fictional account of their hunt for Escobar. Now, for the first time ever, they tell the real story of how they brought down the world's first narco-terrorist, the challenges they faced, and the innovative strategies they employed to successfully end the reign of terror of the world's most wanted criminal.
Listeners will go deep inside the inner workings of the Search Bloc, the joint Colombian-US task force that resulted in an intensive 18-month operation that tracked Escobar. Between July 1992 and December 1993, Steve and Javier lived on the edge, setting up camp in Medellin at the Carlos Holguin Military Academy. There, they lived and worked with the Colombian authorities, hunting down a man who was thought by many to be untouchable. Their firsthand experience coupled with stories from the DEA's recently de-classified files on the search for Escobar forms the beating heart of Manhunters, an epic account of how two American agents risked everything to capture the world's most wanted man.
Praise for Manhunters:
"Steve and Javier's experience on the front lines of the war on drugs over the last thirty years made them an invaluable source of information for us. Their contacts, both foreign and domestic, allowed us to put together a narrative of one of the most complex, poorly reported, and misunderstood chapters in our recent past."—Eric Newman, Executive Producer, Narcos
"Manhunters is a riveting account of two brave DEA Agents who put their lives, along with their families lives, on the line to fight the war on drugs in the US and Colombia. A must read on the take down of Pablo Escobar and the part they played in the investigation."—Joe Pistone, former FBI Special Agent, aka Donnie Brasco, New York Times bestselling author
Editorial Reviews
"A gripping insider account of the hunt for Pablo Escobar. Brilliant, bold, and no holds barred." —Brad Thor, #1 New York Times bestselling author
Details
Available Formats :
Digital Download, CD
Category:
Nonfiction/True Crime
Audience:
Adult
Language:
English
To listen to this title you will need our latest app
Due to publishing rights this title requires DRM and can only be listened to in the Downpour app
DRM (Digital Rights Management) is a copyright protection for digital media. While much of Downpour's content is DRM free, and allows for usage across platforms, select products on Downpour are required by publishers to have DRM protected files. These products will be playable exclusively on the Downpour.com apps, available for iOS and Android devices.